We Are
5 LOAVES & 2 FISH
ORCHESTRA
THE 12TH 5L2F ORCHESTRA BENEFIT CONCERT
5L2F 12th Benefit Concert is canceled/postponed.
​
​
​
The 12th 5 Loaves & 2 Fish Orchestra Benefit Concert​
SUNDAY 6:00 PM
MARCH 22, 2020
​
Kirkpatrick Chapel
81 Somerset St, New Brunswick, NJ 08901
The name of our Orchestra comes from the Bible, John 6:9, which reads "Here is a boy with five small barley loaves and two small fish, but how far will they go among so many?" 5 small barley loaves and 2 small fish is something very small; it's a lunch box for a boy. But this is what Andrew, one of Jesus' disciples, brought to Jesus to feed 5,000 people, believing that Jesus would do something great for God's glory and people's happiness.
The goals of the 5 Loaves and 2 Fish Orchestra are:
To LEARN to make excellent and passionate music together,
To USE musical talent for the benefit of others,
And to SHARE the spirit of giving and sharing with the communities and the world.
Since its establishment in 2009, the 5 Loaves and 2 Fish Orchestra has been active in raise funds and prayers through numerous benefit concert. The donations from the concerts have been benefitting many suffering people from around the world such as Haiti, Uganda, and Kyrgyzstan. Our hope and prayer are that we can continue to do good works with the talent and recourses we possess. We appreciate your prayer and support. You all are welcome to join us!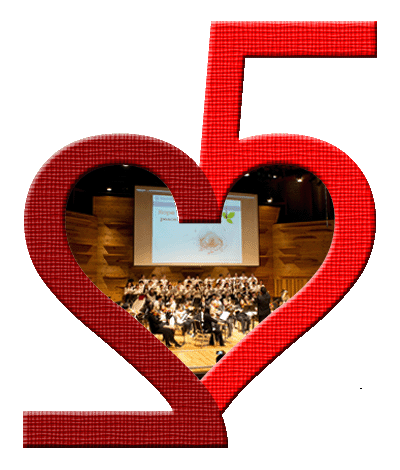 Audition Dates (9 AM to 3 PM)
January 18, 25
​
Rehearsal Dates (3 PM to 6 PM)
January 18, 25
February 1, 8, 15, 22, 29
March 7, 14, 21

Spring Concert Date
March 21 or 22
​
Rehearsal Dates (3 PM to 6 PM)
September 5, 12, 19, 26
October 3, 10, 17, 24, 31
November 7, 14, 21, 28
​
Joint Christmas Concert with Community Fellowship Mass Choir
December 5 Saturday
Auditions are open for all Strings, Woodwinds, Brass & Percussions
​
Date: January 18 & 25, 2020
Time: 9 AM to 3 PM
Place: 510 Hamilton Street
Somerset, NJ 08873
​
510 Hamilton Street, Somerset, NJ 08873
Email us:
Visit us "5L2F Orchestra" on Facebook
Joseph Lee
Music Director
732-425-4041